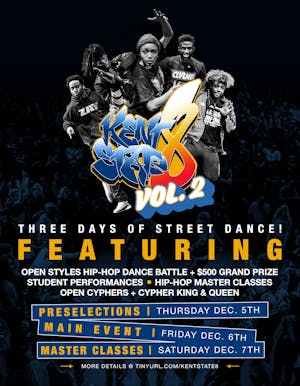 Kent State 8— vol.2 (Open Styles Dance Battle) BSIDE
B Side Lounge
$10.00
Sales Ended
On Eventbrite
Kent State 8— vol.2 (Open Styles Dance Battle)
Description
The "Kent State 8" returns to celebrate its 2nd anniversary as an open style Hip Hop dance tournament showcasing authentic Hip Hop culture to the campus of Kent State University.
Presented by the Kent State Dance Division, the Kent State 8 will feature many diverse and talented dancers battling head to head for the coveted KS8 Championship title. The event will also feature special student showcases by Kent State dance groups, the HipHop classes, and special guest performances.
Cyphers will be held in between rounds where students and professional dancers will have the opportunity to compete for the Cypher King or Queen.
____
12.5.19 — Open Styles Prelims
Pre-Selections to Top 16 → Top 4
12.6.19 — KS8 Main Event Battle
Top 4 from Prelims + 4 Battle Guest + The Finals
12.7.19 — Master Classes
3 Classes + 3 Guest Instructors + 3 Styles
DJ —
San.Wav
Judges —
Daisun "BZ Brooks" Santana (CLE)
Conrad "Abel" Miles (CLE)
Antonio "Tohn" Hutasoit (NYC / NJ)
Tickets —
Spectators: $10 to spectate / $5 Student Discount
Dancers: $10 to battle at Prelims / Watch Main Event KS8 Battle Friday
Prize —
$500 & KS8 Crown
Cypher King & Queen Crown
Contact Samuel McIntosh (smcint15@kent.edu) for further information!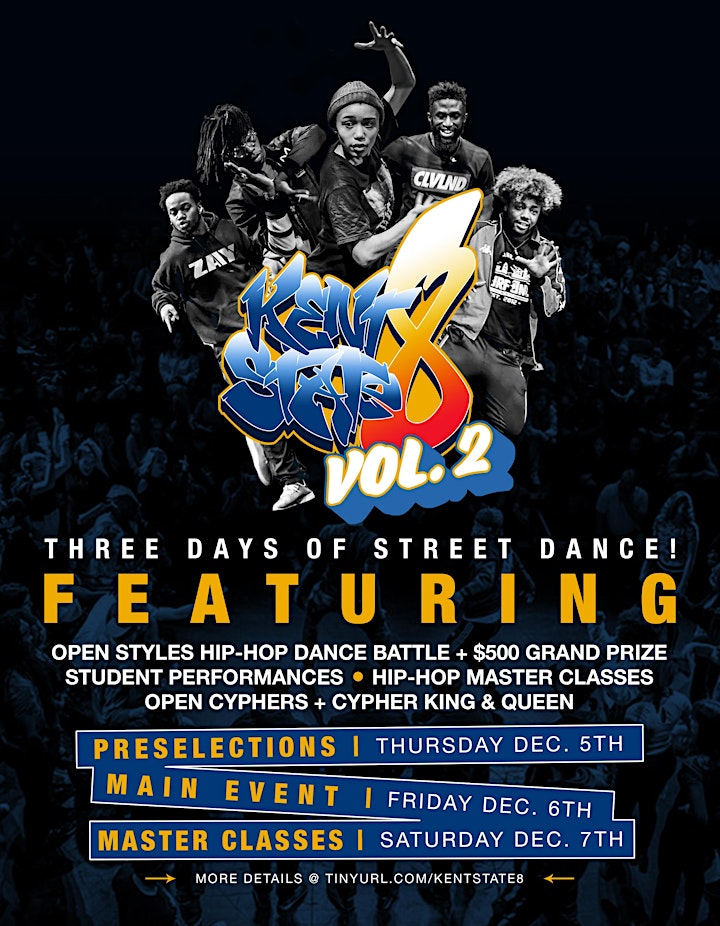 Venue Information:
B Side Lounge
2785 EUCLID HEIGHTS BLVD
CLEVELAND HEIGHTS, OH, 44106